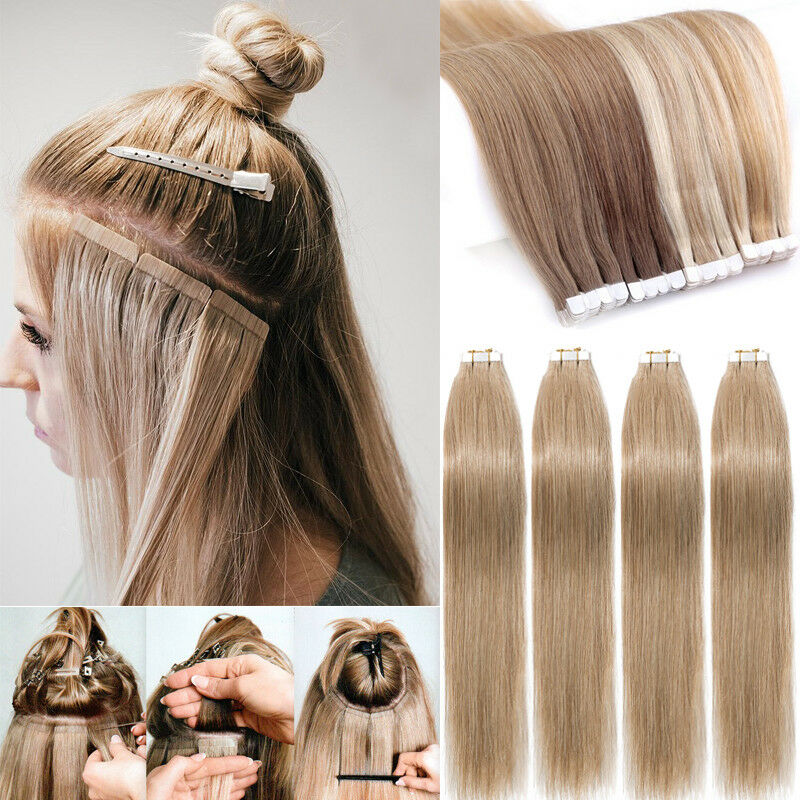 When it comes to hair extensions, the choice between hand-tied and tape-ins can be a difficult one. There are pros and cons to each, but neither are better than the other. It all depends on the type of your hair, and what you feel most comfortable with, as Elsa Hair suggests.
However, while the process of installing these types of hair extensions may be similar, other factors come into play when deciding on what to choose. As Elsa Hair notes, the type of extension you choose depends on "different lifestyles, hair types, budgets and preferences." There's no one type fits all when it comes to choosing hair extensions, it's down to what suits you and how dedicated you can be to maintaining upkeep.
So, what exactly is the difference between hand-tied and tape-in hair extensions, and what should you consider before making the ultimate choice?
Hand-tied hair extensions are easier to conceal

The oldest type of hair extension method is unsurprisingly hand-tying. This involves a weft that is sewn or weaved together by hand, and is attached to the scalp by a row of beads. As the weft lays very close to the scalp, it can offer a "comfortable and natural feeling" as opposed to tape-in extensions.
Installation takes a little longer because of this, and can take between two to two and a half hours, but the extensions last substantially longer than tape-in extensions as the weft won't start to "twist" when they grow out, and they're easier to conceal prior to a reapplication appointment.
While hand-tied hair extensions are easier to hide and can look the most natural, they are the more expensive option and require more maintenance than tape-in extensions. As Elsa Hair explains, this type of extension should never be air-dried and they should be brushed once a day at the root to avoid the hair becoming course.
Tape-in hair extensions tend to be the more affordable option


Tape-in hair extensions are exactly what the name implies — they are wefts of hair that are "taped-in" to the layers of your hair like "sandwich" bonds. The installation time of this extension is much quicker, taking between one to one and a half hours. These extensions tend to be more affordable. Any part of the natural hair supports this type of extension and it "works excellently for all hair types."
However, those with fine or thin hair may find that the tape-in part of the extension can show through more as the hair grows out. Tape-in extensions can also be a bit of a pain when putting your hair up in a ponytail or top knot, as you've got to be careful that the tape doesn't show through in certain areas. And like hand-tied extensions, it's recommended that you brush the weft every day to avoid the hair becoming course and tangled — especially when it's wet.
THANKS FOR READING AND SUPPORTING ELSA.HAIR
LET'S CONTACT MS. HANNAH TO ORDER THE BEST HAIR EVER
   WHATSAPP: https://wa.me/+84988014896