Hair extensions are wonderful for adding volume and length to your natural locks, but there's a long procedure to go through before you get there. Hair extensions can be applied in a variety of ways, which many beginners are unaware of.
There are frequently several techniques to apply the extensions because some people find one procedure easier than others and are more likely to want diversity. If you've tried one type of hair extension procedure and were dissatisfied with the results, you should try a new approach.
Hair Extensions with Tape
When you're having hair extensions put by a professional, tape or tape-in hair extensions are some of the most popular options. When you're putting them on by yourself, it can take a while to get used to because so much depends on third-person vision to ensure the tape is attached to your hair and blends in flawlessly.
Tape hair extensions seem uncannily real when properly placed and are easy to wear throughout the day, as long as no sweating is involved. It's also really simple to style, curl, and store for several usage.
Clip-In Hair Extensions are a type of hair extension that is attached to the hair
Clip-in hair extensions are also well-known and ideal for beginners who are just starting out with hair extensions. The extension is made up of a weft that is attached to a clip. A layer of your hair is normally linked to that clasp.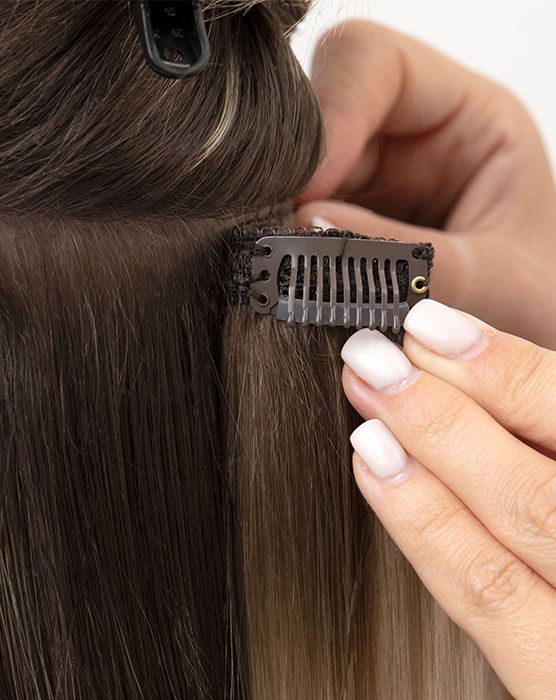 Clip-in hair extensions are as transitory as hairpieces go, because they're simply tiny pins. It's simple to put them on and take them off as needed. For extra thickness to your natural hair, adjust and use a lot at once.
Hair Extensions with Micro-Rings
Micro-ring or micro-bead hair extensions can look amazing, but they're difficult to work with and require a steady hand. These hair extensions are attached to your natural hair with a little silicone bead or metal ring that requires special instruments to apply.
However, once you get through that, micro-ring hair extensions can last a long time. Expect to keep it for at least a month or two before getting rid of it. To ensure that there is little hair fall-out, the removal process also necessitates the assistance of some professionals.
Hair Extensions in a Weave
Weave or sew-in hair extensions are a fun way to add length and volume to your hairstyle. Hair wefts must be braided into your natural hair while using weave hair extensions, which is ideal for textured hair.
With vivid or pastel colors sticking out from your typical neutral-colored hair, it might appear extremely stunning. You could try out other hairstyles such as box braids, cornrows, and more. It will take around a month to maintain these extensions and style.
Fusion Hair Extensions are a type of hair extension.
Fusion or pre-bonded hair extensions are a unique technique that requires the use of hot glue to adhere hair extensions to your natural hair. Fusion hair extensions, unlike other hair extensions, may necessitate a greater level of commitment and care.
Consult a hairstylist to learn more about fusion extensions and how long the procedure will take. Many people are hesitant to obtain them because they can harm your natural hair in the long run, even if they are removed after a few months.
Knowing about the various hair extension procedures might assist you in deciding what you want to try or what would perform best with your hair type. Although the application is a difficult workaround, it can make a significant impact in your usual hair.
Would you like to test clip-in hair extensions from the Vietnam? Foxy Locks assists in the distribution of Remy hair extensions to women all over the world. We also ship worldwide. Place your order right now!