Hair Extensions are the number one solution for glamming up your look! Extensions come in several lengths and kits, with anywhere from 6-10 pieces. Although, clip in extensions are easy to put into your hair…There are a few things you should know in order to get the best and most natural result.
Hair extensions come in both human hair and synthetic hair, but if you can fit it in your budget, human hair is probably your best bet. The style ability allows you to perfectly blend in the human hair clip in extensions to your natural hair texture and or curl pattern.
Of course, many of us have shorter hair (that's why you probably want extensions;) but the number one dead giveaway that you are wearing extensions are those little short pieces that stick out underneath the extensions! They will show your true hair length. We have a trick to get rid of those!
Take a small section (about 1-2 finger lengths and part it horizontally) and twist it until it is completely rolled up and tuck it up horizontally and pin it flat to the back of your head. These short pieces will be invisible from underneath when you are wearing the extensions…Now you are ready to apply your extensions.
Make sure they are styled like you want and they are snarl/tangle free. So brush/wide tooth comb them out first. You may want to wait to put in all your extensions before styling. That can work too!
Now you can clip in your first layer of hair, called "wefts". In every kit, you will have some wefts which are wider than others. Start at the bottom, use the narrow one first at the bottom of the head as this is the narrowest part of your head.
If you pinned up the back of your short hairs, you will see that you have a long weft of hair and no shorties sticking out to give you away! Some of you may have to do two layers of rolling and pinning up your hair to eliminate any short hairs showing through.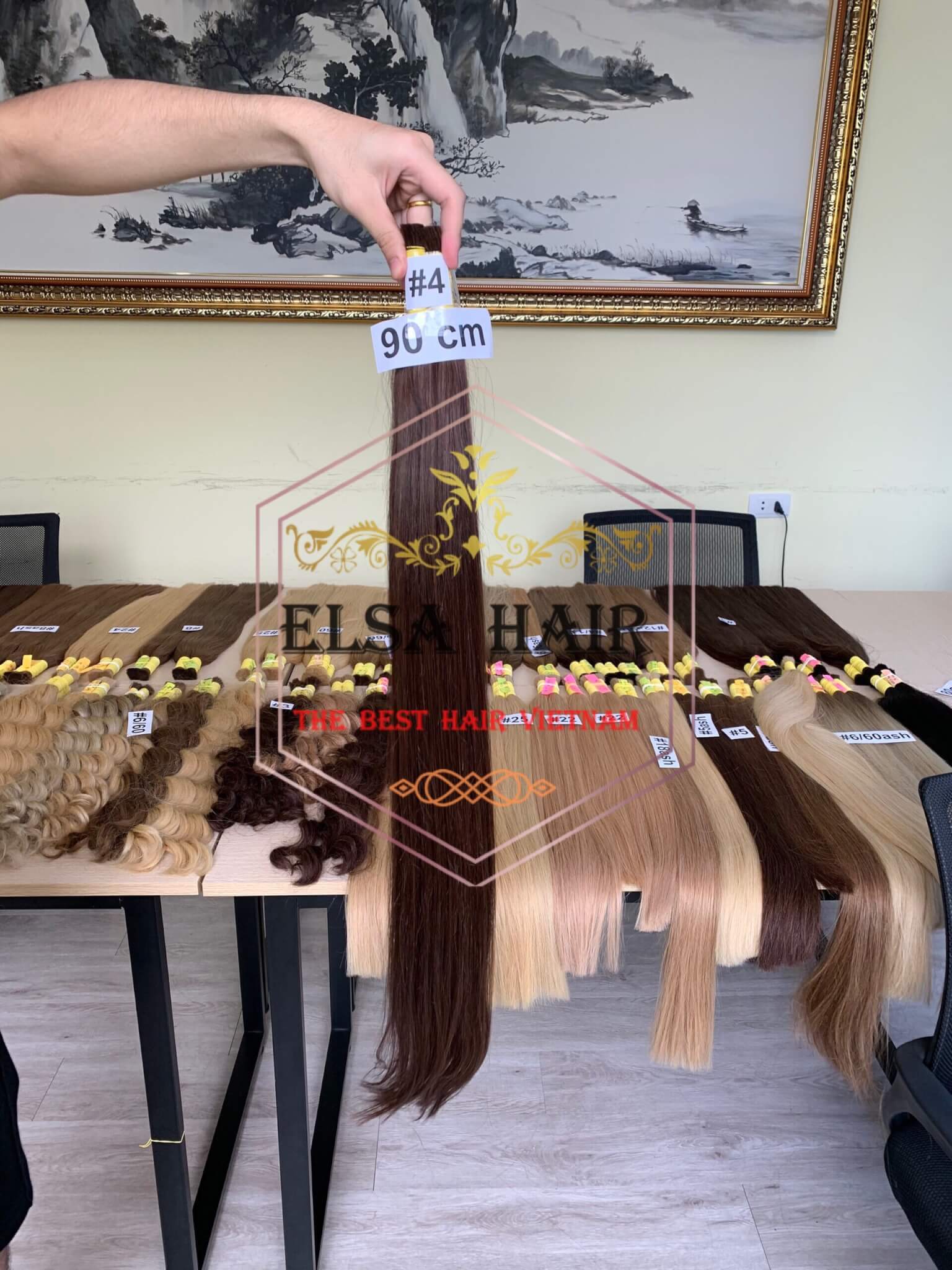 Next…work your way up the back of your head using the two wider wefts next (as this follows the natural shape of your head).
Make sure to clip in to your hair just a tad bit away from the scalp so you have freedom of movement & nothing is digging in to your scalp. Sooo much more comfortable!
If your hair is fine and you need added security, you can slightly tease/or backcomb your hair at the root. The clips will attach and stay a little more securely.
Depending on the kit you have, there will be small single or double clip wefts for the sides of your hair. Place those in to fit your needs and your part…you may even find you don't want to use them at all.
You may want a ton of hair and choose to use two kits! That is the beauty of being able to customize the kit to suit you.
Make sure not to clip any wefts on the top area or any place forward or above the top of the ears. This will ensure your wefts are unnoticeable.
Keep in mind, you can use more wefts or less depending on the look you want to achieve and your own hair.
If you have thicker hair to start or want a much thicker Glam look… you will use all your wefts. You can choose a kit which contains up to 10 wefts. Some days you may want to go for the more Natural look but still be long and full… you can always put less wefts in. Just remember to always start at the bottom and hide your short hairs underneath. You would just space out the wefts a bit more and use less hair…. But you will still look amazing!
Take a wide tooth comb and brush through your finished look to get a flawless integrated look. Now your hair looks amazing and you are ready for anything! We hope you have picked up a few tips that will make you look amazing in your extensions!
Now… with your choice of extensions and this info… you can achieve "Wow" in a snap!