Everyone from supermodels to Disney princesses popularize long, flowing strands. Looking at any red carpet hairstyle, its easy to feel self-conscious that you wouldn't have enough hair to pull it off. That's because many celebrities use extensions both for events and in daily life. Extensions offer celebrities (and you!) the versatility to go from shoulder-length hair in the morning to waist-length waves at night.
As exciting as extensions can be, they can also feel intimidating to start looking into. There are tons of different installation methods for putting in extensions, different types of hair used to make the extensions, and even temporary extensions for special occasions. If you're considering a longer term set of extensions, there are a lot of different factors that play in to deciding which type and method of installation you should choose, including price and maintenance.
                                         

 Types of Hair Used in Extensions
Before we jump in to the different ways that extensions can be installed into the hair, it's important to understand the types of hair that can be used to create extensions. "There are different grades of hair that can be used for hair extensions application," explains Johns, ranging from synthetics, to human, cuticle-intact unprocessed hair. Moss agrees and says that typically the easiest way to differentiate between hair extensions is synthetic (typically used for lower-end wigs and clip-ins) and human hair.
Moss also cautions that sourcing hair should be done ethically. "Just as quality is important, it's equally (if not more) important to know how it is sourced. There is definitely a dark side to the hair extension industry and that's hair that is not ethically sourced. It's important to know if your hair came from a willing donor or from other sources, such as cadavers or even unsuspecting individuals who had their ponytail cut off and stolen," Moss explains. There are a lot of industry-specific terms used to "grade" the hair that goes into extensions, but luckily our experts broke down that basics for us.
                                                         

          Synthetic Hair
Synthetic hair is a great option for those first trying extensions, especially clip-ins for occasional use. There are pros and cons to synthetic versus human hair, but Moss says both types are great depending on the client's hair they are being matched to and the style you are creating. Synthetic hair is essentially plastic and cannot be heat styled, but it is the most affordable option, according to Moss. "Synthetic hair is mostly what lower-end wigs and clip-ins are made of," explains Moss. Your mind might immediately jump to images of a bad Halloween wig, but it's important to note that synthetic extensions, wigs, and clip-ins have come a long way and can vary in terms of quality depending on the price.
One thing to watch for with both synthetic and natural hair extensions is the use of silicones. Some companies coat the hair in silicones to make it look shiny and feel soft, but as this wears off it makes the hair more likely to tangle. While these strands start off looking extra shiny, they ultimately look dull once the silicones wear off.
                                                     

               Human Hair
Human hair varies greatly in quality and sources, so it's important to know the terminology used to grade it if you are going to attempt to purchase it on your own. Moss says the most common phrase you'll hear referring to quality human hair is Remy (sometimes spelled Remi) or Cuticle Intact. "This means that the hair is either virgin (non-chemically treated) or at least is as healthy as possible with the cuticle lying flat all in the same direction," explains Moss. Human hair can come from many parts of the world, with the highest producing countries being China and India. Moss says that these two hair types are very different, but are both great depending on the client's hair it is being matched to.
Remy hair is often the ideal for extensions since it's healthy, virgin (never before processed) human hair. Each strand is carefully selected to ensure that the cuticle remains intact and all cuticles align. Because all of the hairs run in the same direction, Remy hair maintains a soft, silky texture. However, just because a seller says their hair is Remy hair doesn't mean you should take their word for it. This term for the highest quality hair gets abused regularly, so both Johns and Moss recommend doing your research. "The market is full of hair vendors all claiming to be the best with high quality hair. If you're purchasing hair on your own (without stylist recommendation), see if the hair vendor sells samples. Also, research reviews to see if the quality is consistent," Johns explains.
If you're sourcing on your own, here are some terms you may want to know:
Natural Hair: Typically refers to human hair, but likely not to the same quality as Remy hair. This hair may be processed or dyed.
Remy Hair: Human hair that is healthy, virgin (never before processed), and the cuticle remains intact. This term can sometimes be overused or used incorrectly, so do your research before paying top-dollar for Remy hair that may come from dubious sources.
Single-Drawn: This means the difference in the length of the strands should be no greater than 2 inches to ensure a more uniform extensions.
Double-Drawn: A step up from single-drawn, these strands should be essentially uniform throughout, so that there is little to no thinning at the bottom.
                                           

     Types of Hair Extensions
The different types of extensions methods are almost endless, says Moss, which can make finding the right kind for you feel very overwhelming. Johns agrees and says the market is so vast and ever changing that it's hard to keep up with all of the new methods that pop up. Making things more complicated, Moss explains that these are very broad terms/methods that all have subcategories and off-shoots. Additionally, many extension methods are named different titles, but are installed the same exact way. "For example Beaded row extensions are called beaded wefts, brainless sew-in's, LA Weave, Double Wefts to name a few," explains Johns.
Both experts caution that you should consult an expert to determine the best type of extensions for your hair. Any method can be safe or damaging depending on the professional who installs it and how it is taken care of by the client outside of the salon, explains Moss. "If someone's hair is fine and fragile, I would not recommend using a method that requires heat or adhesive. Adhesive based methods such as tape-ins are also not ideal for anyone who likes to air dry or needs a lot of moisture for their hair/scalp. These factors mean the adhesive will break down faster, resulting in extensions slipping and/or falling out and needing reinstalled more frequently," Moss cautions. Below are the most popular types of extensions.
                                               

               Clip-Ins and Wigs
Clip-ins and wigs are great options for those looking for extra inches temporarily. Clip-ins come in all kinds of handy pieces to change your look, including clip-in bangs, ponytails, and buns. "Clip-ins are awesome for low commitment extensions wearers. You can wear them just for a day or special occasion and then remove them. If you take good care of them they can last you a long time," explains Johns. She adds that wigs are great if you'd like to experiment with different colors, textures, length's and densities. "Much like clip-in's you're not committed. However, you have the option with wigs/lace-front wigs to have them installed for extended amounts of time," shares Johns.
Installment: For traditional clip-ins, instantaneous! For some wigs (especially lace fronts), installment can take about an hour.
How Long They Last: Up to a week depending on care
Cost: Varies depending on quality and amount of hair
                                                   

           Sew-In/Weave
One of the classic forms of extensions, sew-ins are a great option for longer term wear. Also called a weave, a sew-in is traditionally sewn into the natural hair after it has been braided into cornrows. It does not work well in thin hair as the wefts of hair need to be securely anchored to the natural hair. This form of extension is also known to be heavy and uncomfortable and can cause strain on the scalp.
Installment: Can take several hours and can be very uncomfortable
How Long They Last: A few months; Considered to be the longest lasting and the most seamless
Cost: Anywhere between $85-$600 depending on the hair type and amount of hair
                                                               

    Tape-Ins
Tape-in hair extensions are exactly what they sound like – extensions that get taped (or glued into the hair). They are aligned with the roots and then the glue is heated to adhere the extension to the hair. These extensions also need to be removed by a stylist to minimize damage to the hair. If they are cared for, the extensions can be reinstalled at the root after they are removed. "Adhesive based methods such as tape-ins are not ideal for anyone who likes to air dry or needs a lot of moisture for their hair/scalp. These factors mean the adhesive will break down faster, resulting in extensions slipping and/or falling out and needing reinstalled more frequently," explains Moss.
Installment: About an hour and a half
How Long They Last: 6-8 weeks
Cost: $200-$400
                                                            Beaded Rows/Sew-In
"Having been trained in multiple methods and generally working with different types of extensions over my 14 years in the industry, I definitely prefer my method of beaded row extensions for plenty of reasons," says Moss. She says they require absolutely no heat or adhesive, use only about 10% of the individual's natural hair inside the beads, are quick to install, and easy to maintain at home. All of these factors add up to resulting in an extension method that is as safe as possible on the individual's natural hair.
The beaded rows/sew-in gives more fullness and are great for denser hair, says Johns. The application of beaded wefts is diverse as well. "They can be installed to hide the beads or not. They can be long or short rows, you can control the density of each row, as well as color blending with the wefts being installed," says Johns.
Installment: 2-5 hours depending on the number of rows
How Long They Last: Can stay in the hair up to 10 weeks (12 in desperate times like a pandemic) and only need replacement hair every 6-10 months
Cost: $500-$800; more depending on the type of hair used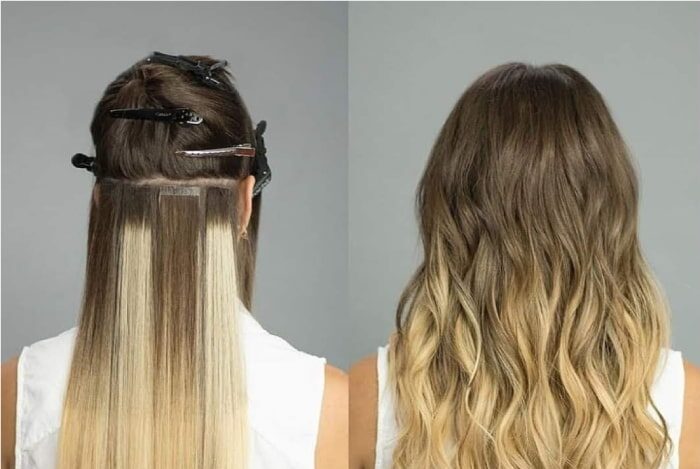 Halo
These are great for the individual who doesn't want to wear extensions all the time or commit to maintenance appointments, says Moss. It is a "halo" of hair that is put on to the crown of the hair and blended with the wearer's natural hair. "Halos just need a quick appointment with a stylist to have them cut to blend with the client's hair and then can be worn as often as desired for years as long as the client takes good care of the hair at home. They're also great for special events and are less damaging than clip-ins," explains Moss.
Installment: A short salon visit to cut and blend the halo with the natural hair and then quick application at home as needed.
How Long They Last: Years depending on care
Cost: $200-$500
PLEASE FEEL FREE TO CONTACT US VIA WHATSAPP: +84 988614198