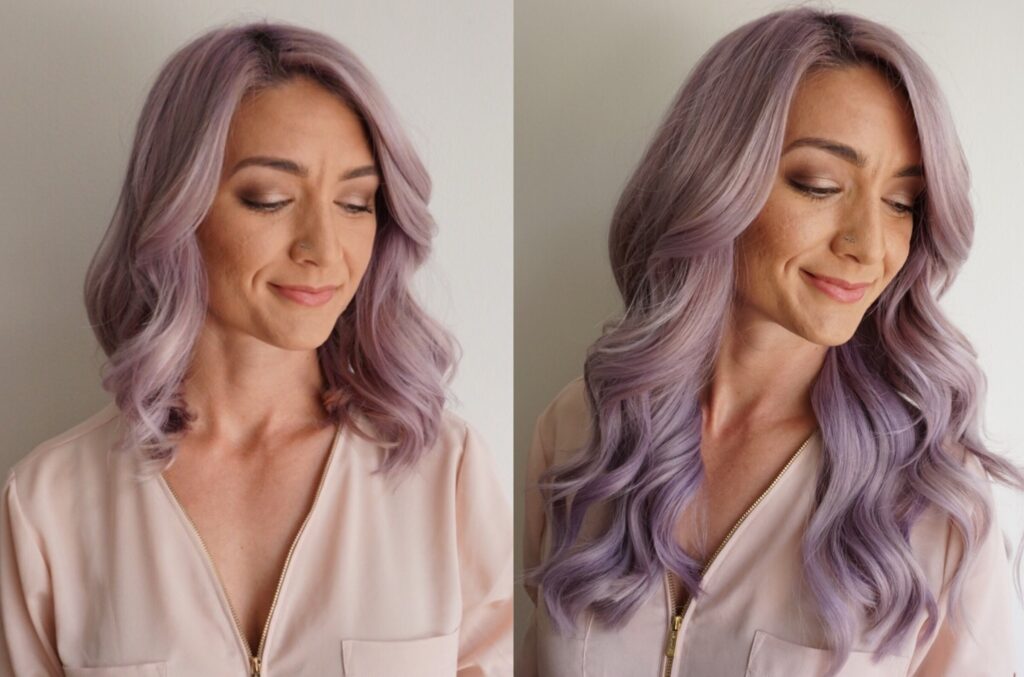 We can all agree that adding hair extensions is like decorating a cake with icing without spending any additional money. Depending on the hairstyle you're going for, you can always get crafty and DIY. The biggest issue is that some hair extensions can prevent you from getting the style you want. It's a good thing you found the 5 simple hairstyles that disguise extensions.
Half-up Half-down
Half-up half-down is one of the easiest hairstyles that hide extensions. Not to mention an excellent style to add more volume if you have thin hair. This hairstyle has been receiving a lot of attention recently. All you have to do is take strands of hair on the top area, pull it back, and pin it. Simple and easy.
You can get creative with your half-up with a bun, braids, or simply tie it up. As for your half-down, make sure that your hair extension is covered with a layer of hair. We don't want that hair extension exposed. This hairstyle is simple and can be pretty flexible on any occasion.
To have your hairstyle last longer and in place, don't forget to spray a tidbit of hairspray. Not only does it keep your hair all day long, but it will also help in giving your hair a little more shape.
Ponytail
Countless non-hair extension users say that you cannot do ponytails once you have hair extensions. It's a matter of personal preferences. You always can and be fun with your ponytail. As a matter of fact, the ponytail is the easiest one in all five hairstyles that can hide extensions.
But let's admit it, the ponytail was so last year, so boring. Nothing special. And this is where your imagination comes in. You can make your ponytail high like Ariana Grande, a low ponytail like Selena Gomez, or a slick ponytail like a supermodel.
You can even add more details to it, like curling the ends, bubble braiding, or simply doing a messy ponytail. There's a lot to do with a ponytail. All you need is your hair and pack your imagination.
Asking your professional hair stylist would be an excellent move if  you don't know how and where to start and don't want to ruin your hair extensions. But if you want to do it yourself, this guide will definitely help you.
Braids
Braids can also be one of your go-to hairstyles that hide extensions. That is, if you want to settle for simple braids or a fishtail. But if you want more, whether you do french or double dutch braids, you have to keep in mind that you will need to part your hair from top to the back of your neck.
You'll be exposing some of your hair extensions, but if this doesn't bother you, then continue. But it is a must that you take good care whenever you're grabbing pieces of hair as you braid, or you'll ruin your hair extensions.
Now, if you want to settle with simple braids, you can consistently achieve mermaid-like hair with regular braids and fishtails. You can even get to color your hair for desired results. It is pretty ideal to do this hairstyle whenever summer months are approaching.
Want to try braids with hair extensions but feeling hesitant? Watch this video and learn how to DIY your hair extensions with braids.
Beach Waves
Beach waves are one of the famous and natural-looking hairstyles that hide extensions. Why? Not only is it super easy, but it also looks excellent the longer you wear it. Plus, beach waves are healthy for your hair extensions and scalp, with no pressure from pulling strands of hair.
Want to have healthy-looking hair with beach waves? It's simple, just wrap a strand of hair around your curling iron – uneven curls make it look more natural so have small and big curls.
A little water or even a mouse can help make your beach waves stay in place and protect your hair from extreme heat, saving you from frizzy hair.
Bun
The bun is one of the fastest hairstyles that hide extensions. It's very effortless to do a bun whenever you're going somewhere, and you don't have time to do your hair.
The greatest thing about a bun is that you can do so much in this hairstyle. You can have a messy high bun, a low bun looking like a ballerina, and the chic bun your go-to party hairstyle. One more thing, you don't have to use your curling wand.
Want to know a secret to a perfect and elegant-looking bun? Fluff it up a little, let some loose hair strands, and tie it in a bun.
Want to try a bun but your hair is short even with hair extensions? Worry not, this guide will definitely help you in styling your short hair with different styles of bun.
Conclusion
Having hair extensions won't hinder you from doing chic and classic hairstyles. Start doing your hair with these 5 easy hairstyles that hide extensions. All you need is your hair and creativity. Have fun having a great hair day!
THANKS FOR READING AND SUPPORTING ELSA.HAIR
LET'S CONTACT MS. LINA TO ORDER THE BEST HAIR EVER
   WHATSAPP: https://wa.me/+84983894098
 INSTA: https://www.instagram.com/lina.extension/