How to make hair extensions look real in short hair
For this I'm going to be showing you tips on how to hide short hair with our hair extensions, but these tips work with other types of extensions too.
Remember:
Before you try any of the below tips, the very first thing you need to do is make sure your extensions have been cut and styled to suit your hair.
For short hair, we recommend taking your hair extensions to your hairdresser and layering your extensions with different lengths for a more seamless blend.
Step 1: Try this secret trick to hide short hair under extensions 
Hair extensions blend more easily in thin hair.
Particularly if you want extensions for more length, it's important to make sure your short hair blends properly. 
If you've got short hair, it's likely that your hair is somewhat blunt at the ends.
This is a cheeky little trick to temporarily thinning out your hair without cutting it, so your hair can blend with your hair extensions.
What to do:
1. Section your hair so that most of your hair is clipped or tied on top of your head.
Leaving about a 1/4 of your hair down.
You might need to leave more or less hair down, depending on how much hair you have.
2. Grab the hair that will sit under your extensions, and tie it in a little ponytail. You can also do a flat bun, or even braid the hair and pin it to your head if you've got a lot of hair to hide.
3. Let the rest of your hair down on top and apply your extensions as normal.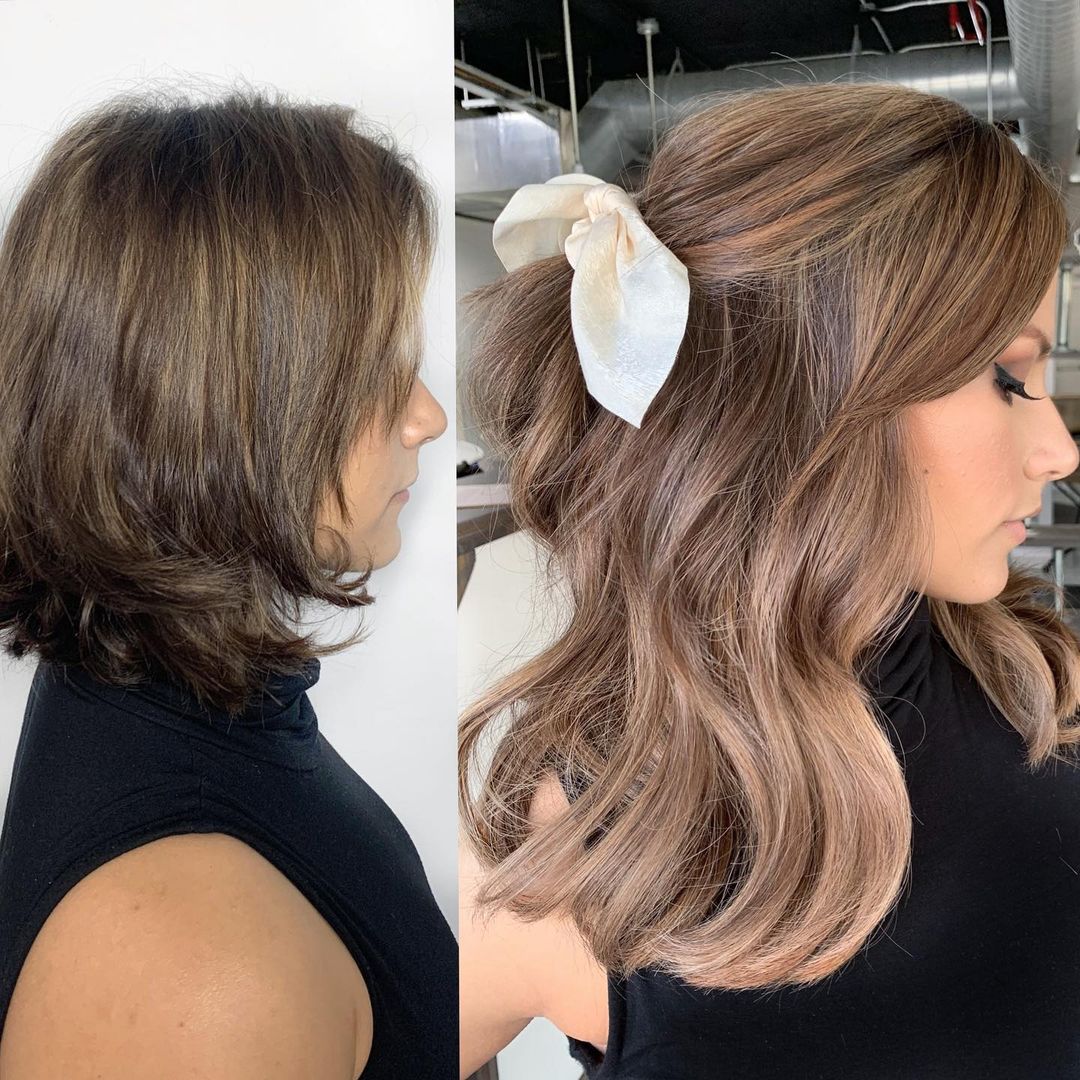 Step 2: Blending your extensions; from mullet to mermaid hair
No, the mullet will not be staging a comeback in operation 'long hair'. 
To make sure this doesn't happen, leave less hair on top of your extensions.
Doing this will ensure there's no noticeable disconnect between your long extensions and your short hair. 
You might be wondering:
"But I need a lot of hair on top to cover my extensions"
Our Sitting Pretty Halo sits low at the back of your head, out of sight.
So you can get away with leaving less hair on top, and not worry about wind blowing and exposing any clips or tapes. 
Step 3: How to make short layers invisible 
This is the final touch to blending your hair extensions to look as real as your own hair.
Once your halo hair extensions are in:
Look around for any sections of your short hair that are noticeably sticking out from beneath your halo. 
You'll usually find these culprits around your face. 
You can then pin this little bits of hair to your head under your extensions, hiding them from the front.
Bonus tip: How to style extensions to look real in short hair 
Your extensions are in.
Now it's time for the icing on the cake.
The best way to style hair extensions to look as natural as possible, is with curls or waves.
Curling your real hair together with your hair extensions adds texture.
The best part?
You won't be able to see any short layers sticking out.
Adding textured waves is perfect for styling short or layered hair with the halo. 
PLEASE CONTACT US VIA WHATSAPP: +84 988614198