Knowing how to choose the right hair extensions length is really important because it directly affects how your hair looks and feels.
To assist you in choosing the best option, we will cover the different hair extension length options available in our online store, talk about the top sellers, and how to choose the right length for your particular hair.
We'll also share a few useful tips to help you make the right decision. Let's go!
MINIMUM HAIR LENGTH FOR EXTENSIONS
Would you like to know how short hair extensions can be? We recommend that your curls be at least 6-7 inches (15-18 cm) – that's the minimum hair length for extensions. On anything shorter than that, hair extensions might look unnatural since the short strands do not allow you to properly hide the points of attachment.
If your natural hair is thin and short, and you don't want to expose it to unnecessary risk, then you should get shoulder-length hair extensions.
The optimal length of hair extensions, in this case, should be 1.5 inches (4 cm) longer than your natural hair. This way, they won't put too much weight on your original styling.

Go with fusion hair extensions with micro keratin bonds. This type of hair extension will look natural, blending in perfectly with your own hair. Micro keratin bonds are almost invisible, making them ideal for women with short hair.
If your own hair is thin, you should choose Slavic hair for your extensions – this is premium-quality material. Soft-textured and thin, Slavic hair is completely safe for your natural hair, as it is lightweight and does not strain the roots.
If you want medium length hair extensions, then your optimal length is between 18 and 20 inches (45-50 cm).
WHAT IS THE MOST POPULAR HAIR EXTENSION LENGTH?
What is the best length for hair extensions? Based on our long-time experience as a major supplier of hair extensions, we can say that it has to be 18-20-22 inches (45-50-55 cm).
Let's see why these are the best hair extensions for length:
Regardless of how tall you are, this length is ideal because the hair runs all the way down from the shoulders to the waist.

Looks natural: not too short and not too long, so no one will be able to tell that you're wearing hair extensions.

You can also use hair extensions to achieve more density and thickness when combined with your natural hair. The standard bundle weight is 100 grams. If you aim for 18-inch extensions (45 cm), then this weight will increase not only the length, but also the density of your hair. If you go for 26-28 inch extensions (65-70 cm), then all this weight will account only for the length. In other words, your strands will be long, but not as thick.

Good for rebonding with fusion hair extensions. Since you naturally lose a couple of centimeters with every rebonding procedure, this length allows you to keep the same styling for several reapplication procedures without worrying about your hair becoming too short.

In the case of hand-tied weft extensions, you do not lose any length: the strands are loosened and re-woven back into your own hair!
Combining the quality products that you can get in our online store with proper care, you can use your hair extensions for up to one year!
HAIR EXTENSIONS LENGTH CHART
Would you like to get the best hair extensions for your hair and achieve the perfect length and volume you've always wanted?
This hair extensions length chart will help – use it to choose the right length of hair:
| | | | | |
| --- | --- | --- | --- | --- |
| Inches | Centimeters | Straight hair | Wavy hair | Curly hair |
| 12 | 30 | Shoulders | Chin length | Below the ear |
| 14 | 35 | Upper back | Shoulders | Chin length |
| 16 | 40 | Bra strap | Upper back | Shoulders |
| 18 | 45 | Shoulder blades | Bra strap | Upper back |
| 20 | 50 | Mid back | Shoulder blades | Bra strap |
| 22 | 55 | Mid back | Mid back | Shoulder blades |
| 24 | 60 | Lower back | Mid back | Mid back |
| 26 | 65 | Lower back | Lower back | Mid back |
| 28 | 70 | Waist | Lower back | Lower back |
| 30 | 75 | Hips | Waist | Lower back |
HAIR EXTENSIONS LENGTH FOR STRAIGHT HAIR
HAIR EXTENSIONS LENGTH FOR WAVY HAIR
HAIR EXTENSIONS LENGTH FOR CURLY HAIR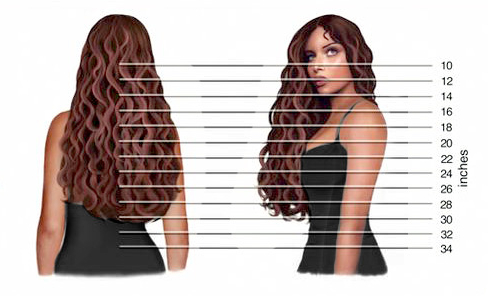 The maximum possible extension length is 30-32 inches (75-80 cm). There are some hair extensions that are 40 inches (100 cm) long, but this is super rare since this hair length is considered exclusive and is not suitable for everyone.
In addition to the length, you can also choose the right color, structure (straight, wavy or curly), and type of extension (fusions, hand-tied or machine wefts, tape-ins, or clip-ins).
Please note: when purchasing Slavic hair, you get bundles of a unique shade every time: this is premium-quality, virgin, thin and soft hair.
WHAT LENGTH OF HAIR EXTENSIONS DO I NEED?
If you are looking to change your hairstyle but keep asking yourself the question "what length hair extensions should I get?", here are a few tips we've put together to you find the perfect styling:
Hair of the same length will look completely different on a person depending on how tall they are. For example, on a woman of short stature, an 18-inch bundle will almost reach the waist while on a taller girl, it will be just slightly below the shoulders.
If you wear a cascade haircut, choose longer bundles: in the process of shaping the haircut, part of the hair is cut and the entire hairstyle might appear visually shorter.
Keep in mind that wavy and curly extensions are measured straight. Therefore, if you want a particular length of hair, get a bundle that's 2 inches (5 cm) longer than the target length for wavy hair and 4 inches (10 centimeters) for very curly hair.
If you prefer hand-tied wefts, remember that by sewing the weft you will lose approximately 2 inches (3-5 cm) of length. At the same time, tape in hair extensions lose a little less in length: but some of it will still go to secure the tape to the hair, which is about 1 inch (up to 2.5 cm).
HOW DO YOU KNOW IF THE HAIR EXTENSION PROCEDURE WAS SUCCESSFUL?
It just has to feel right: if there is too much hair, it will create noticeable tension and discomfort, especially when wet.
If your hair extension stylist has used not enough material, the extended strands will stick and look foreign on your native curls.
To answer the question "what length hair extensions do I need," we recommend that you first measure the length, and only then purchase the hair bundle. The easiest way to measure would be to position the measuring tape at the top of your ear and slide your fingers over it until you reach the desired length.
However, the smartest decision would be to contact a hair professional. Here at I Love Slavic Hair, we will be happy to help you choose the right hair extensions that match the color and structure of your natural hair perfectly!